Hot temperatures and a campfire-and-beer induced hangover conspired against Kathleen and I on our second day in the Upper Peninsula. We started with a morning climb up 'Ghost Deer Mountain', the spur just southeast of Bald Mountain, and had gone for a leisurely drive down Ford Road and through the Yellow Dog. When we reached the turn-off for Pinnacle Falls I balked at the thought of the long climb on our weakened resolve. Instead I drove us to Yellow Dog Falls, a relatively flat and easy hike along a meandering stretch of the river.
Getting ready was a lengthy process in itself. We got out of the car, stretched, drank water, munched on some bland snacks, and slowly headed into the woods. I was feeling much better than Kathleen, who looked visibly pale, though I definitely wasn't completely up to par. Thinking of the long drive back to Wisconsin this evening into the setting sun was just painful. Walking through the shaded forest next to a calm Yellow Dog River helped with that impeding ordeal.
We reached the first drop with little issue and I took a few photos. The lighting wasn't that great today, not with the afternoon high in the sky and harsh shadows casting down over the falls. Plus there was a few people near the pool below the falls wading through the cool water. A gold pan nearby, barely used, betrayed their driving purpose for being here. There are plenty of rumors floating around about gold flecks being pulled out of this river and Bushy Creek further downstream.
Continuing downstream I tried to start edging in the idea of visiting all of the drops along this stretch. There are seven or so, depending on how you count them, though the footpath does fade away to nothing. Kathleen wasn't having any of it. We compromised in a deal that definitely worked in my favor - I agreed to turn around at the second drop along the river if she would tackle the cliffs above Red Road with me. She had no idea what she just agreed to.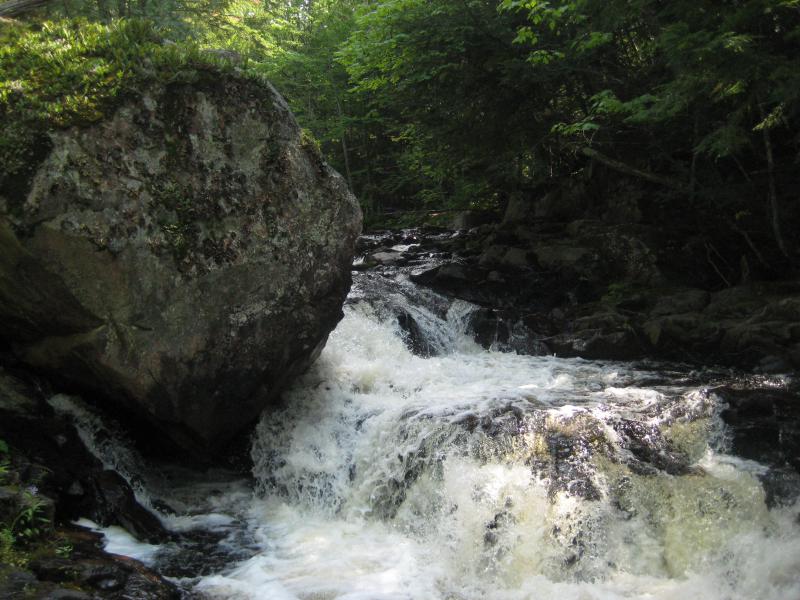 The second drop is nowhere as impressive as the first one, with most of it hiding behind a huge boulder, though the large rock itself is pretty neat. We turned around here and headed back to the car along the gently climbing trail after less than thirty minutes of easy hiking along the Yellow Dog River.
After this relatively easy hike I sped over to Red Road and tackled the cliffs with gusto. Any quesiness I had felt this morning disappeared with the tough climb and great vistas. But that story is told over on my blog.