There are always two things to plan before heading out on a trip: where to go and how to get there. I still struggle with the second one at times. Getting to a destination involves a lot more than just cutting a line or following a creek. I need to know the area, complete with access issues, road conditions, vegetation and terrain, route options, and more. I've been burned plenty of times by an unexpected dead end or unanticipated hardships along the hike.
For the first half of the summer I focused on waterfalls in counties, trying to complete Houghton and Keweenaw before moving onto Marquette, but rivers and geology don't follow legal lines. It was still nice to think of something as being completed, to have explored all of a group of waterfalls, so I started to focus on watersheds. There's some large ones to focus on, like the Ontonagon and Huron Rivers. Knowing that I was completely done with one, which could include a dozen different waterfalls, gave me a definitive goal to reach for. With this in mind I headed back to Vista Falls with Logan, hoping to get one step further to completing Sturgeon River.
Driving down past Pelkie and Nisula is always a fun route, avoiding the major highways to the east and west. Once I got on M-38 I veered west over to NF-16. On my last visit I tried approaching Vista Falls from the south, cutting a straight line north along an old forest road. I gave up after the black flies got to thick, uncertain of the approach. Today I was hoping for an easier and longer route along the east side of West Branch Sturgon River (well, the upper swamps of the West Branch Sturgeon). An old two-track heads up along the bank, curving west with the river, and should take me within a few hundred yards of the falls if everything goes well.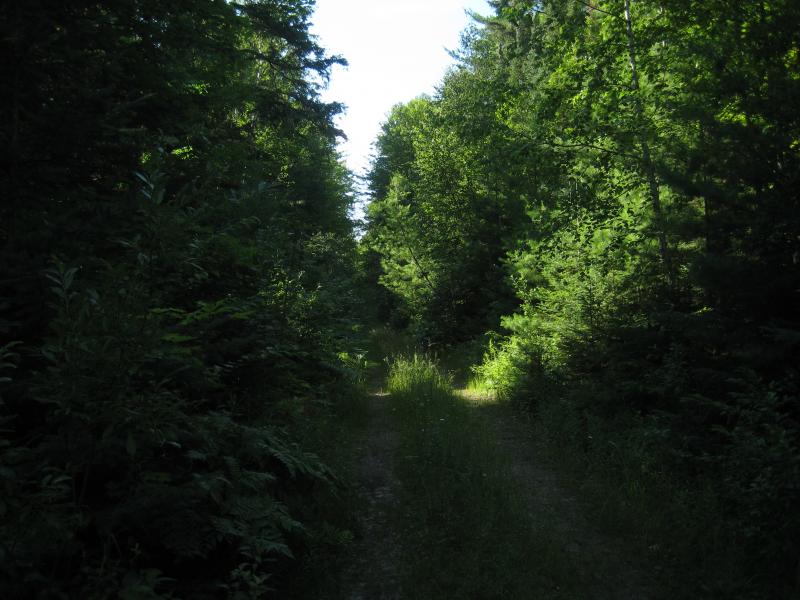 This two-track was easy to walk on, probably flat and nice enough to drive my car down. It lasted almost a half mile before a beaver-created swamp ate it up. Bypassing on a narrow ATV trail below the large wood-and-mud structure I kept heading north and west, following the road closely. After another mile or so I started getting antsy so I cut right off the road, thinking we would be close by now. When I reached the river all I saw was grassy swamp.
I didn't think the walk would be this far. Hoping I hadn't passed the falls I followed the edge of the swamp back, a tough, buggy push through the thick undergrowth. When I finally bumped into a small creek I knew I was off. I was right back at the beaver dam.
West Branch Sturgeon River (or swamp) makes a large elbow bend north of Laird Road. Maybe a mile north and half a mile west will take you to the marked Vista Falls. On my first visit I tried to be smart and just cut due north, boxing up the corner, but couldn't chart my way through the woods without a compass or GPS. Today I had tried going around the outside of the bend along the road, which is sharper than the water's bend, and had just ended up short. I wasn't even close to where I needed to be.
The bugs were getting bad and Logan and I had a long drive down to Appleton tomorrow to see Katie and her family. I decided to call it for today. We retreated from the swamps, pursued by black flies, giving up on this waterfall for today.