Snow was coming to the Copper Country, clogging up the creeks and slowing down my waterfall exploring. There were still two spots in Keweenaw County that I hadn't visited yet, though, and I was determined to visit them this year with or without snow. Logan and I drove north in Katie's SUV over slick roads beyond Calumet to Copper City.
Our first destination was more based on a hunch than hard facts. I had seen photos showing an impressive summertime cascade over brown, blocky rocks labeled both 'Copper City' and 'Queen Anne' Falls. Assuming that this waterfall was near Copper City, it was easy to track down the nearby creeks and pick which one was large enough to hold a decent-sized drop. Hoping for a lucky break I parked just off of Mohawk Street near an open fenced field and headed down an overgrown, snowy two-track.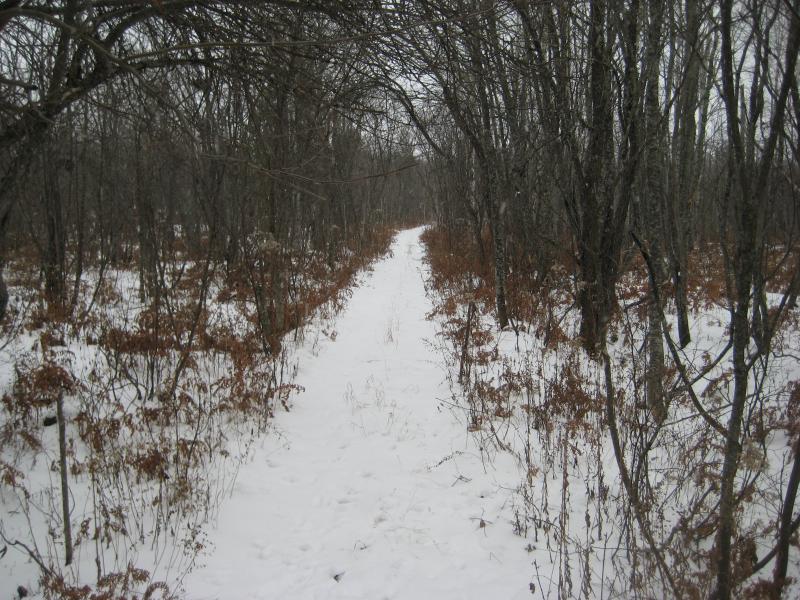 From satellite photos it was easy to tell that Slaughterhouse Creek followed a manmade path near the town. Sharp angles connecting too-straight lines after crossing under an old railroad grade was blatently unnatural. I was not interested in sticking close to the routed river, something I normally tried to do when trekking through unfamiliar areas, choosing instead to stick on the two-track that led around the open field. For a while it led away from the creek, to the southeast, but a spur curved back south once I passed an old pile of junk on the far side of the field.
The snowy path was peaceful through the woods, evenutally leading through a planted orchard. Logan bounded ahead of me through the clean snow as I trudged behind him, nowhere as agile as him in the deepening fluff. The orchard gave way to a second, smaller field, this one with a hunting blind in the corner. My body was instantly on alert. Not expecting the blind or private property issues I called Logan close to me and made my way around the outskirts of the field towards Slaughterhouse Creek.
If anyone was in the blind they didn't bother us as we disappeared into the woods. It wasn't long before we bumped into another trail, which led back to the clearing, giving us a sense of direction. The land was starting to slope downhill towards creek and the leafless trees showed an opening ahead of us. The four-wheeler path ended but both Logan and I knew which way to go, even if we couldn't hear it yet. Queen Anne's Falls was under us.
We came upon the falls right at the top. There wasn't much to see here besides the wide, open gorge formed below the waterfall and snowy rocks that would make our path down difficult. I crept from one blocky rock to the next while Logan watched from the banks, amused. Eventually I got far enough down to look back up at the waterfall. Queen Anne's Falls was an interesting set of drops, sliding and plunging around the fractured blocks, peeping out from behind the snow in a mad dash downstream. It was hard to get a good view with all the snow, though, so I continued to the bottom without much pause.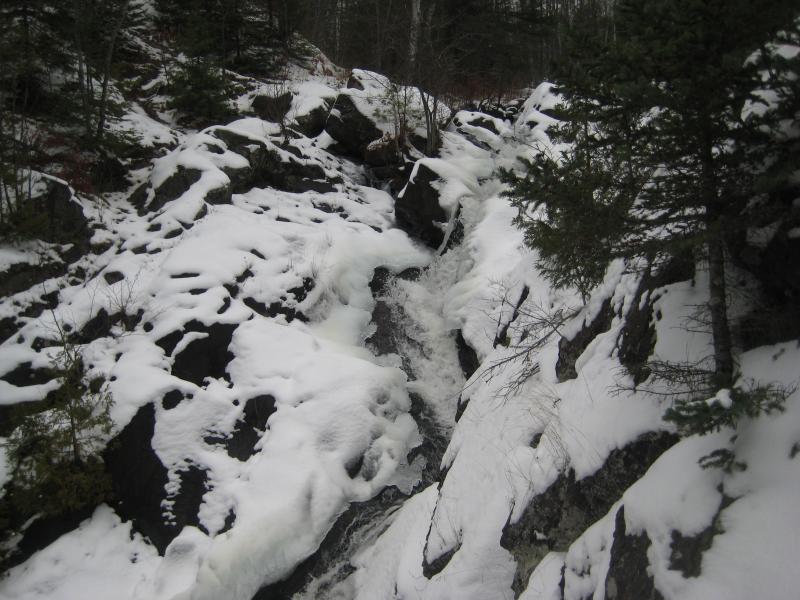 A convenient bend in the creek below the waterfall let me look back and get some decent angles. Again, the piles of snow and structure of the rock made it hard to see the entire feature, though it was still a pleasant winter sight. While this drop is not on many tourist lists and is a bit hard to reach, Queen Anne's Falls was definitely one of Keweenaw's best waterfalls. I headed up the river bank, happy that I made the gamble, and Logan bounded up with me.
Not as worried I cut straight back to the four-wheeler path and took that to the clearing. The walk back was a bit rushed, as the snow and length of this stop had taken longer than I had budgeted and I didn't want to drive home in the dark under the snow clouds. Big flakes drifted down, carried by the slight wind, settling on to our tracks. I had no doubt that any trace of our visit would be completely obscured within the hour.
Our next stop was much easier. Heading east out of Copper City we drove down into Trap Rock River Valley twoards a small roadside dam. Its hard to count this one as a waterfall. Still, being the only drop on a well-known river and once the main feature of a park, Trap Rock River Falls was worth the detour. The road is now a dead-end off of the main Valley Road, no park or main byway to bring people out anymore. I left Logan in the car and took a few pictures before we headed back to Houghton.
With the exception of a few slips and slides the drive back was uneventful. I was satisifed, having found a new waterfall and finished up all the waterfalls north of the Portage (or so I thought). We drove to Houghton, unsure if more waterfall outings would draw us out before the spring melt.