Katie was back, this time for good! I was pretty excited to have her back in Houghton. After a weekend of visiting with friends and just hanging out I convinced her to go exploring with me. After all, we started waterfalling together back in June and it would be nice to have her as a hiking buddy again. We aimed for a relatively easy destination but one that was high on my todo list - Upper Silver Falls.
This was now the the fourth or fifth time I was setting out to find this waterfall. I had come close to the last few times, visiting the largest lower drop, but there were five total waterfalls on this stretch of Silver River. Today there was a plan, one that I thought was foolproof, to finally visit all of the drops.
Instead of turning down the track that parallels Silver River we continued east along a severly washed-out trail. Katie's SUV was able to handle the tough drive just fine and we made it safely to the gated bridge. The gate wasn't locked and the bridge didn't appear to be too terrible but there was no reason to risk a drive across so we parked on the near side.
Noticing a footpath along the riverbank I led Katie and Logan into the woods. The first waterfall showed up rather quickly, a divided tumble around a large craggy island. After a few photos we crossed the river easily on the rocks, aiming for the easier eastern bank, and was on our way to the next drop when the rain started to fall.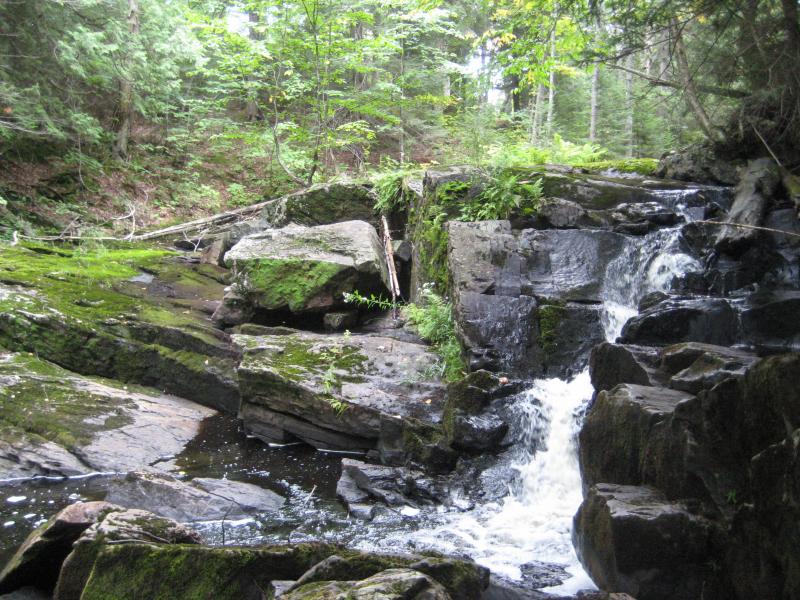 Today's forecast called for scattered showers. I had hoped that they would skip us by. The heavy drops coming down weren't joking around. Katie was hesitant but I convinced her to continue on. The woods were thick and the trees made good, if leaky, umbrellas.
The second waterfall was incredible. Silver River first slants downward over a long slide with a few quick tumbles before a quick pool right on top of a sharp, cylindric formation. Water pours over this formation over a few different slots. The lower part had to be at least eight feet of sheer rock, rising unexpectedly up from the riverbed. We spent a good amount of time here, marveling at the unique outcropping.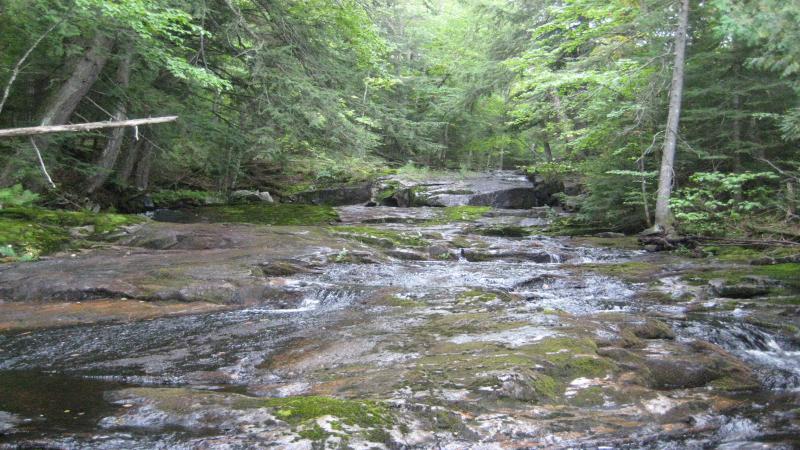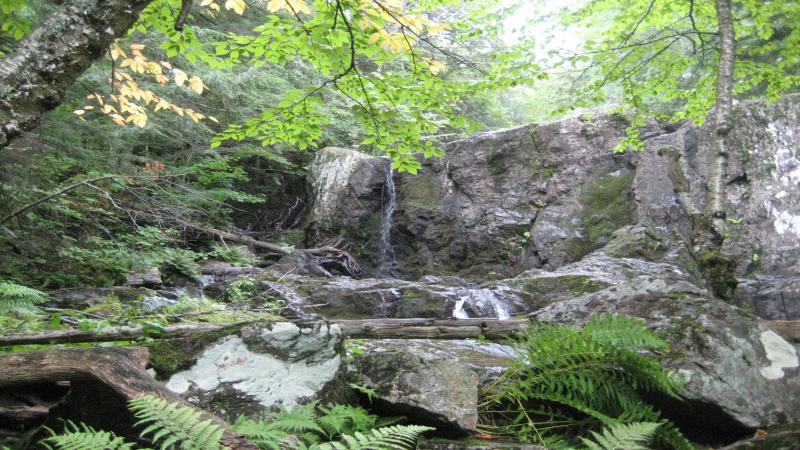 By now we were getting a bit soaked from the rain. A few loud peals of thunder could be heard in the distance, frightening Katie. I was so close to seeing all of the drops. We headed downstream quickly and found the third and fourth drops close together. They were both pretty, domed slopes of rock on a narrowed river, but we didn't spend as much time checking them out with the approaching storm.
I was at the fourth falls, the same drop that Steele, Faith, and I had came up to on my last visit, when I slipped. It wasn't a bad fall, just a lost foothold on a mossy rock, but it did drop me a good six feet into the deep pool under the falls and out of Katie and Logan's view. While I frantically tried to claw back up without slipping further in or dropping the camera Logan went berserk trying to see if I was okay. When I did make it back to them he covered my face with wet doggy kisses as if the ten minute ordeal had lasted weeks.
We decided not to continue downstream to the main drop, which I knew was still a healthy hike away, and turned around back to the car. On the way the storm lifted, turning the cool, wet woods into a steam cooker. We were quite happy to see the car again. With Katie and Logan both tired out and my knee starting to ache from the unexpected drop we headed back to Houghton. I had finally seen all of the Upper Silver Falls, even if they were scattered between multiple trips.