Howling wolves and an early morning thunderstorm made for a long night on the Yellow Dog Plains. When Logan and I reluctantly got up and tried to get ready for the day our tired eyes were greeted with an overcast, drizzling sky. I did have some early morning hikes planned and that sounded horrible. Instead we packed our wet gear into the car and drove off, taking the long way to Mulligan Plains.
Last night we had slept near Pinnacle Falls, within a mile of the northern side of Mulligan. However, the only way to drive to from one to another is a lengthy haul of thirty miles on 510 and Red Road. These roads are not for speeding and it took me over an hour and a half to finally get to an unmarked driveway mid-way up Mulligan. Which was just enough time for another bought of thunderstorms to roll through and re-soak the forest.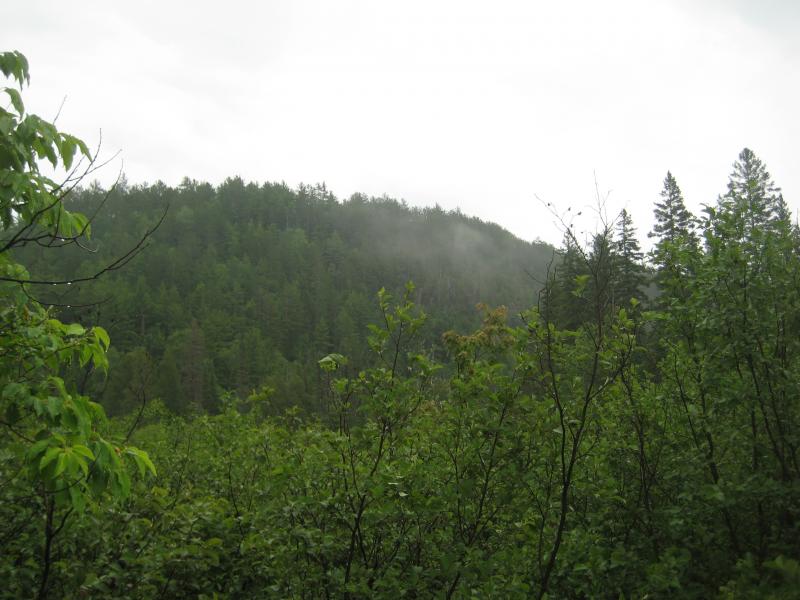 If my guess was right than this gated driveway would be the easiest way to reach Rocking Chair Lakes. I stepped around the gate, Logan zipped underneath, and we made our way along the two-track. I had to be careful to avoid mud puddles and the dripping wet vegetation creeping along both sides of the track. Even Logan was slow today, meekly trotting along as the grass rained drops down on him.
We got to the far end of the driveway, awkwardly back-pedaled from the cabins here, and then found our turn-off that led up to Mulligan Creek. There are three huge puddles on that turn-off, the narrow ATV trail, which required us to slink through tag alders and balance on rotten stumps. And then crossing the creek was over a freshly-built and flooding beaver dam. There was little about us that was dry when we reached the far side, especially my gurgling boots.
Without much of a plan I wandered east towards the rising cliffs and bumped into a busy little stream flowing over sand and mud. A stream? I didn't expect to find a stream and there wasn't anything marked on the maps. The only way a stream would be flowing from the north is if the lakes above were supplying water. Bingo. If I couldn't find a path (there was nothing obvious in the thick woods) then we would just follow the stream up the cliffs. And with any luck I'd find a waterfall.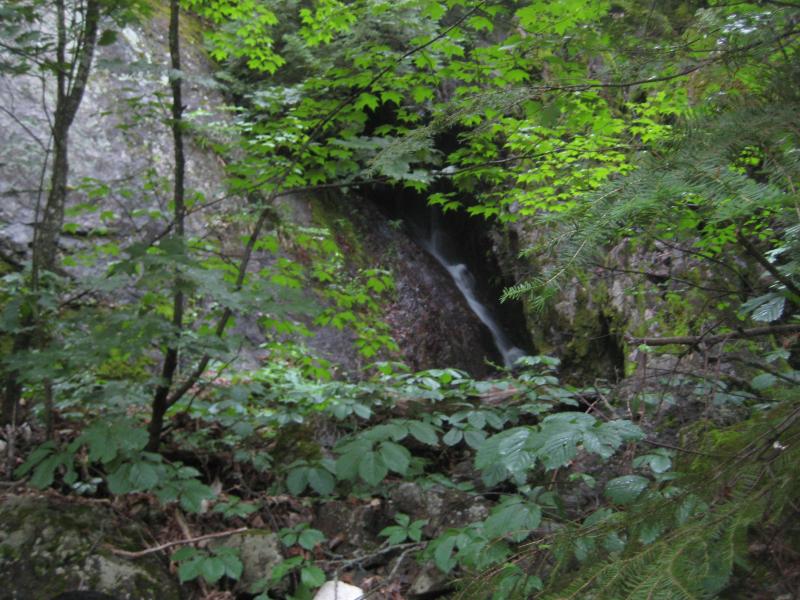 It didn't take long for the stream to twist up the rocky cliffs and form some small yet exciting drops, squeezing through the hard grey rocks above. What did take long was to find a way up. The steep cliffs were sheer rock here and I soon learned that climbing them outright was a very dump idea. Logan stayed below and watch me creep close to twenty feet up before I ran out of options and had to turn around. Staying close to stream would have meant finding more hidden drops in the cliff but it probably wasn't worth risking falling off the rain-wet rocks.
We headed a bit to the south and climbed up a more reasonable pine-covered slope to the top of the cliffs. I didn't waste any time and cut into the woods and soon found the northern Rocking Chair Lake. It was everything I had hoped for. The tall cliff rose on the far bank, mirrored over the smooth rock, and tall green rose on all sides. It was love at first sight.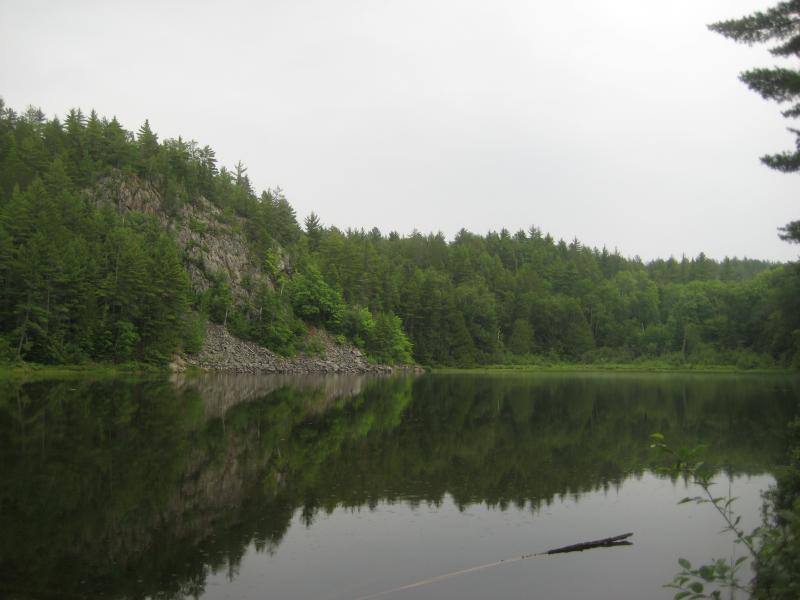 After swinging over to the other lake and playing along the cliff edge it was time to head back down. As soon as I reached the car I quickly pulled out my dry clothes and switched out, anxious to get my sopping gear off, and started on the long drive up to Skanee. There was more to see here, more waterfalls I wanted to scout out, but it was just so darn wet. The more time I spent driving the less time I'd be out under the drizzling sky. And while I didn't see any more waterfalls that day, the dreamy hike up to Rocking Chair Lake and the little outflow stream drew me back on many return visits.