Quincy Falls was a pleasant find in the early weeks of my waterfall adventuring. The mining ruins, numerous drops, and cute creek all added up to make an awesome destination. I did regret one thing from the first visit, though. By the time I had reached the third waterfall the sun had all but left the sky. The photos I did get weren't that great and I wasn't sure if I had even seen all of the drops that the little creek held. Steele and I headed out to Mason on a crisp fall day to escape the weekly grind, with Logan, in hopes to do a more thorough exploration of the creek.
We first spent some time wandering around the old mining buildings. I was cautious with Logan, especially in the old mill with broken glass, but the three of us still had a fun time lurking around the decaying buildings. Eventually we moved on to the waterfalls, taking a path up to the ATV trail and tumbling down to the creek's side. The first drop was right where I left it a few months ago, now slightly obscured by brightly colored leaves, thought the water level was much lower.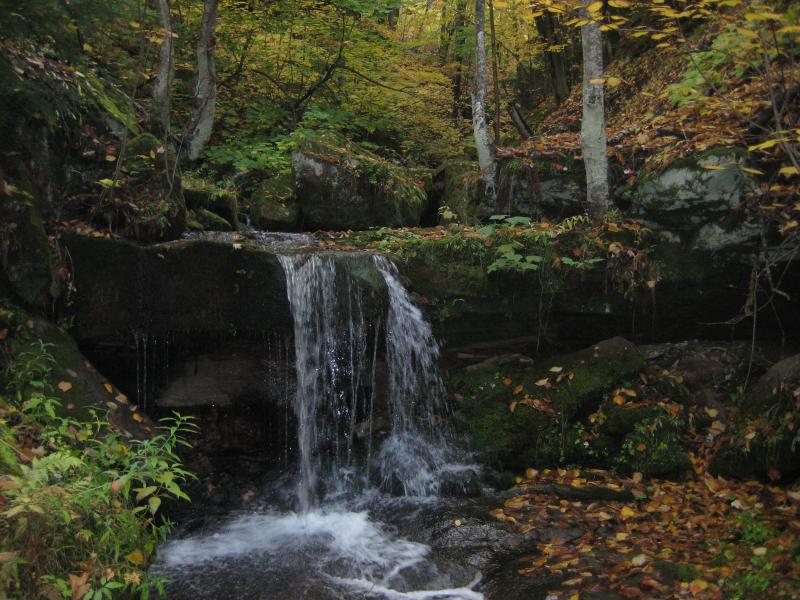 Instead of a steady flow over the sandstone ledge a slight flow trickled over the rocks, dripping off the moss. I was disappointed by this sign but we continued on nonetheless. It was easier for us to walk along the creek's bed with the less water anyways, with Logan leashed and all.
What the waterfalls lacked the colors made up for. The leaves that still clung to the trees were bright yellow and orange and the ones that had fallen lay on the gorge's floor painting everything in autumn hues. We made our way up the creek, marveling at the colors, past the small drops and old dam.
With a new hiker and a leashed Logan we did not make good time. When we did reach the third waterfall it was even darker than my first visit here, so we turned around and headed back on the northern bank. It was easier for me this time around to pick and choose the correct route back through the darkening woods and we made it back to the ruins without much issue.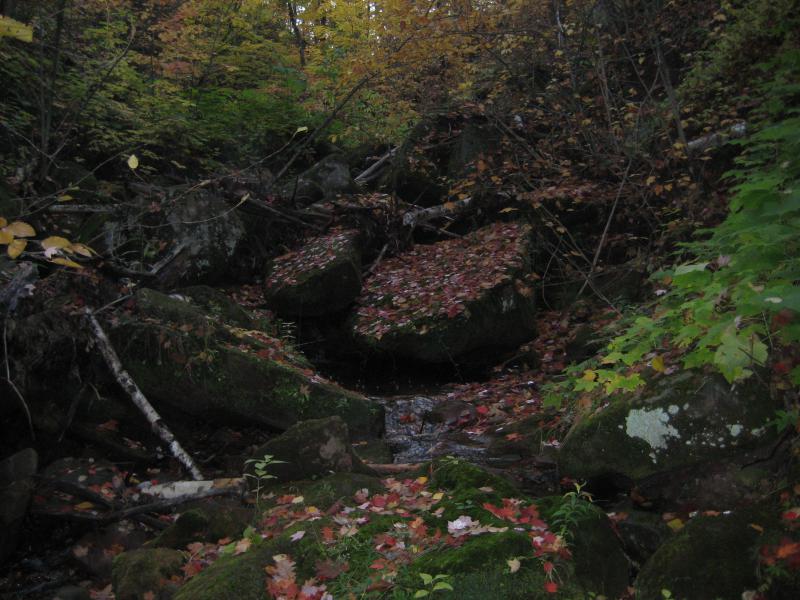 On the drive back I thought about the falls. As much as I didn't want to admit it I knew a third trip would have to happen, during high water levels and with enough daylight to explore past that third waterfall. Winter was around the corner, so there was a good chance that this next trip would have to wait for me next spring.