Not every waterfall trip ended successfully. A good chunk of my trips were based on rumors or hints, not hard facts or solid directions, and finding anything at the end was sometimes just dumb luck. Today there would be no luck.
There is a point on most topographic maps labeled Vista Falls within the headwaters of West Branch Sturgeon River. I headed south alone, figuring that today's hike would be too tough for Logan or Katie, and parked near an old, grass-covered track leading north from S Laird Road. Following the overgrown track north was easy until the black flies started coming out. Either stirred by me disturbing the grass or just laying in wait for foolish explorers searching for Vista Falls a cloud of biting annoyances soon surrounded me.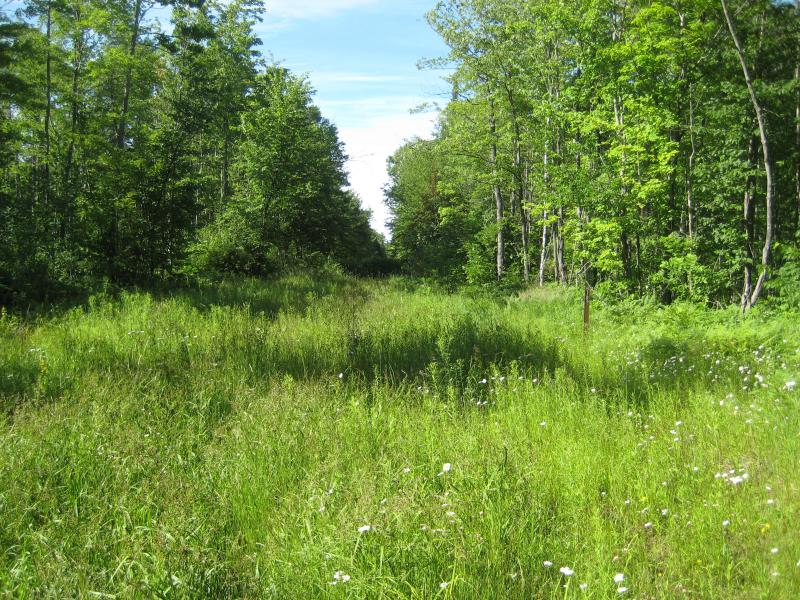 I tried to ignore them. When I crested a small rise and came upon a wall of woods to my right, where a path was supposed to lead me straight to the river, I cracked. I did not have a good handle on the area or any sort of compass or GPS. The thought of getting lost out here with all these black flies was unbearable. I turned and trotted swiftly back to my car. It didn't take long for my walk to break into a jog.
Since I was already this far south of Houghton I decided to press on. Further to the south, all the way to Kenton on M-28, lay another suspicious spot. Near the Ontonagon River was a marked spot for Onion Falls. I wasn't sure if the waterfall was on the nearby Onion Creek or on the Ontonagon, near the inlet of that creek, so I just figured to follow the creek downstream and find out. I drove down Forest Road 1130, uncertain of my bearings. I knew I should park when the road curves to the right, but could not remember how much of a jag I should be looking for, and ended up parking on the side of the road far too early.
Stepping out of the car I tumbled down into the woods to the south. The creek was somewhere below me and the falls should be downstream so I simply kept the setting sun on my right and headed through the trees. The steady downhill slope promised a creek below and I allowed myself some hope. When I came onto the water, though, that hope vanished. The creek was shallow and muddy, winding lazily back and forth within a wide muddy valley. There were no rocks, no steepening walls downstream. This was a muddy creek, not one that would hold any sort of waterfall. Angrily I turned around and headed back to the my car.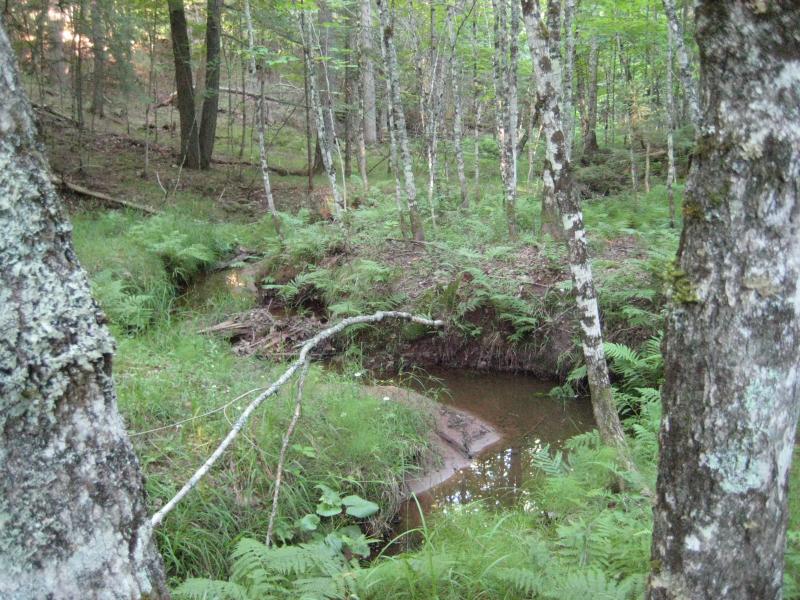 Both destinations had been guesses in unfamiliar territory. Still, striking out on both felt a bit harsh. Not only had I not found any waterfalls; there was no significant finds that would help me on future attempts. Disappointed I drove back to Houghton in the dwindling summer light, wondering if either one of these were worth a future visit.