When the weekend finally rolled around I was more than ready to go. Winter had dragged on too long and it had been two months since my last visit to the forests of Skanee. Grabbing Logan I drove south past Baraga and L'Anse and didn't stop until the plowed road got questionable on Arvon Road. Today I was hoping to collect GPS locations for each and every waterfall on Slate River, starting here up by the old quarries.
Even though the road was getting fairly rough for my vehicle it did look like Arvon Road was plowed all the way through, connecting over to Dynamite Road in the west. I didn't expect this, with so few houses this far out. Maybe it's easier for the plows to just loop all the way around. Interesting piece of knowledge to save for future winter drives down here. For today I parked by the old wooden bridge and walked along hard-packed snowmobile tracks over to the river, glancing down at the icy river as I meandered over it.
There was a lot of water breaking free from the snow today. Maybe, just maybe I'd see an actual waterfall today. I decided to check out Quartzite Falls first and headed left from the bridge. The path to the falls had some scattered tracks, probably from a few adventurous snowmobilers, and it was easy going under the tall trees to the waterfall. There was barely anything to see, though - just some ice and foaming water shooting out from huge mounds of snow.
Black Slate Falls is nearby, just on the other side of the wooden bridge, so I turned and and headed back. Logan bounded along with me. He didn't care as much if the waterfalls were visible or not, my dog was just happy to be out here in the snow with me. When I returned to the bridge I noticed a two-track that seemed to follow the eastern side of the river, an overgrown logging road that I had never seen during my warmer visits last year. We followed this up with the intention of popping over if we heard any running water.
There wasn't much running water. A few small open drops lay here and there, but most of the taller ones were completely cloaked in deep snow. I made sure to mark what looked like the main ones on my GPS. Along the way we saw a deer, a brief bit of excitement for Logan. I wasn't worried - he never travels more than a few hundred feet from me in the woods.
We followed the river for a half mile before it was time to cut off. The track and river curve west and run up along Arvon Road here, giving me a good point to cross and head back to the car. Up until now I had had little trouble darting on and off the track to the river for a few photos, following ridges or animal tracks and barely sinking in. Where I cut off was a different story. The white snow was above my thighs, forcing me to flounder around drunkingly to reach the riverbank. And once I was there I had to make a tough crossing over mounded rocks between slushy pits of water.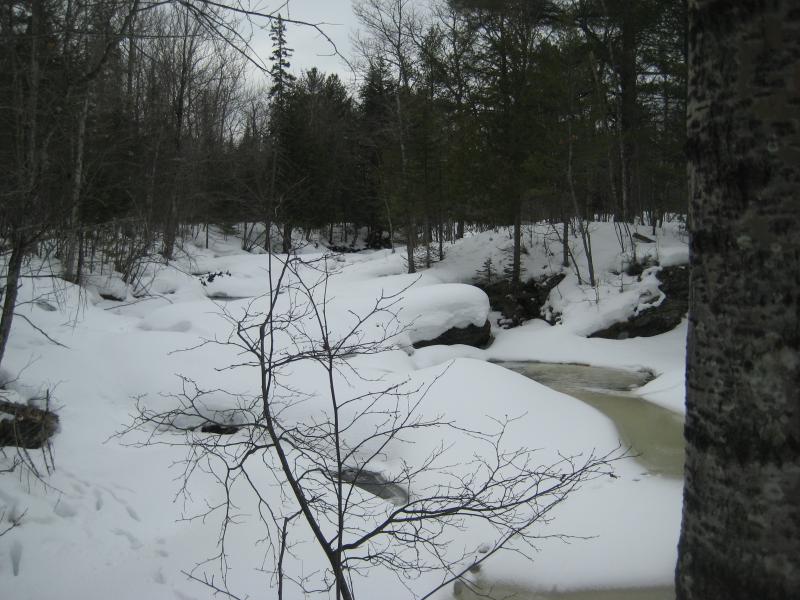 I'm pretty sure Logan laughed at me as he played in my tracks and easily lept over Slate River. My crossing had left me cold, wet, and more than a little concerned about my other planned stops for the day. We trudged along Arvon Road and returned to the vehicle and I decided to change things up a bit.
Today was supposed to be all about Slate River. However, the snow was deep and the river was wet. Walking up from Skanee Road up the deep gorge didn't seem like a good idea. Maybe a better idea would be to make a few easier stops, further to the east, instead of making a certain dip in icy waters. We drove back north and east, heading over to Big Erick's.
There wasn't much to see out here. The campground and parking area were still clogged in snow and the roads just got muddy and sloppy as I passed over the bridge. And the road conditions beyond were about as impassable as I could imagine. Erick's Road led out to Bald Mountain and the Northwestern/Ford Road was buried in feet of snow. Cliff Falls, Cedar Falls and even the Yellow Dog Plains were still unreachable. So I turned around and headed down Black Creek Road.
There were plenty of waterfalls along the Huron River that I needed to collect coordinates for. I ran through them, trying to picture how difficult a winter hike to each one would be. Only two seemed easy enough for a quick visit: Big Erick's (which I didn't really need to visit) and Erick's Falls. A few miles down Black Creek and I passed over the cement bridge. The falls gurgled and bubbled a few yards downstream.
Curious I poked over to Leatherby Road. This is a narrow two track that headed upstream and provided access to several waterfalls and it was completely clogged in snow. Fine. There was no more delaying it. The drops within Slate River Gorge were going to be the only real visit I could make in today's snowy conditions.
Parking as far off the road that the narrow shoulder would let me Logan and I piled out of the car. The river flowed noisily below us. This far down out of the hills was fairly warm, and combined with the passing afternoon and decreased snow depths made for an active little river. Which would also make for a wet hike up it.
We followed the banks as long as we could, cutting from one track to the next along the west side, and eventually was forced into the river bed. I did my best to guess which sections were dry and which were wet, as the Slate River cuts a wide channel that is only truly full in the throes of spring melt. I only broke through a few times and never got wet beyond my ankles. The snowy and melting gorge was well worth the damp boots.
When we reached the first waterfall, though, our trail was at an end. There is only two ways past this point. I prefer climbing the side of the waterfall and continuing up the river, usually a mild eight-foot climb up rock that is just barely too much for Logan to handle. That route was covered with snow and ice and was not passable today. With a deep sigh I led Logan up the hundred-plus climb to the top of the gorge.
Being on the top of the gorge wasn't the worst thing. We were on the eastern side, the side that got the full blast of the afternoon sun, and much of our walk was over snow-free ground. This side also had a nice footpath to follow upstream. We were just too high up to see the waterfalls. I guessed at a few spots, marking them on my GPS, but it was hard to say just how close to other three drops we got.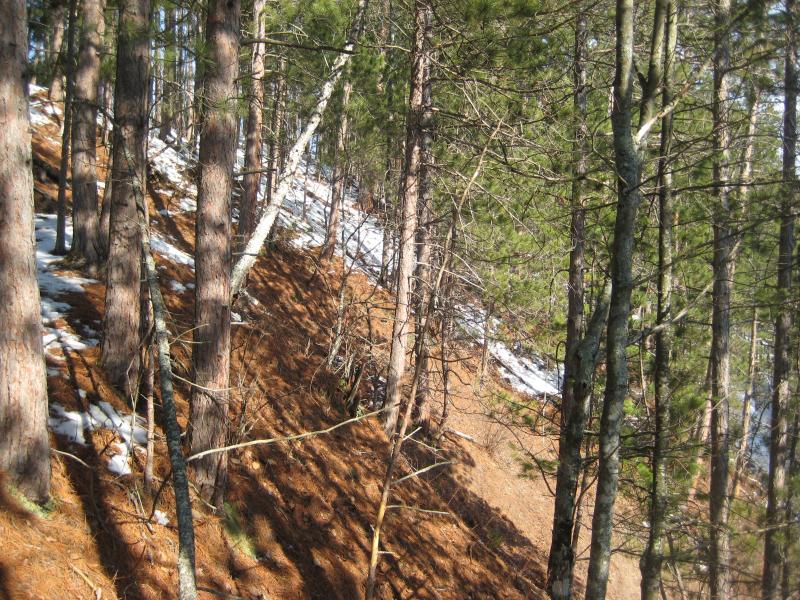 With a few hours of daylight left we headed back down the trail and returned to the car. I was wet, Logan was tired, and technically we had visited even more spots than I had set out to do. Yet I knew that the Slate River Gorge needed more attention. I would have to return to get more accurate coordinates for those falls, probably in the spring or summer.