A long week meant that Katie and I were interested in a long weekend drive. We jumped in the car and headed down to Bruce Crossing. There was a small restuarant in town that we had found last fall as well as two nearby waterfalls that I wanted to get some GPS coordinates from. We started our weekend by eating a hearty breakfast at Char's before continuing south to Bond Falls.
Normally a busy spot crowded with visitors, Bond Falls was almost completely vacant. The usual access below the waterfall was not plowed so I parked up by the gift shop. I was surprised to see the water still flowing healthily from the reservoir. Snow and ice, which had choked up almost every river I had visited this winter, did little to stop up the water. We crept down along the hard packed path alongside the river, looking back at the different drops, while I marked some key spots on my GPS.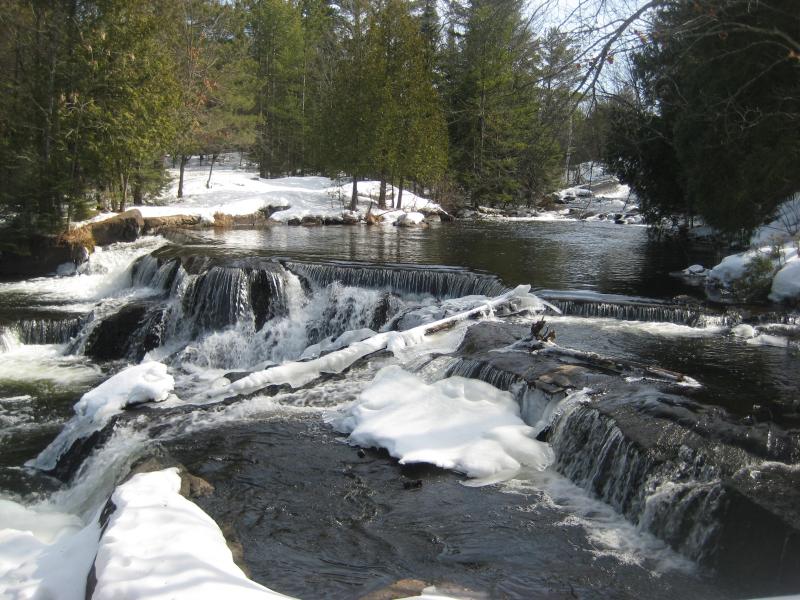 We were pleasantly surprised by just how pretty the drops were. I had been here with Katie last year, just when the snow was starting to fall, yet now the deep snow and crisp air made for a perfect frame around each cascade. The one issue we ran into was the frozen runoff.
There were a few spots where the river overflowed its banks, dribbling out onto the cement path, and now those spots had formed slick ice that made sections of the path impassable. Logan and I worked our way some parts, and I used the metal railings on others, but the staircases were impossible. I was forced to turn away from the last set of stairs and didn't get a chance to see the main waterfall. At least we got the coordinates I was looking for.
The other destination was a few miles downstream at Agate Falls. Again, the main access was closed for winter, so I just parked on the shoulder. The path past the old gift shop was packed hard by previous visitors and stopped at the viewing platform perched high above the drop. I was tempted to clambor down the steep riverbank here to get a better vantage… Which was a steep, snowy slide that would have hurt a lot. I saved the coordinates and we headed back to Houghton.