displaying 1 ~ 3 of journal entries with bond falls
Looking for a long drive and easy visit, Jacob and Katie head down to Bruce Crossing for breakfast and waterfalls.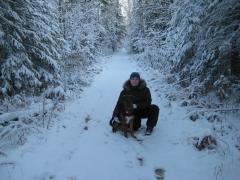 Katie and Jacob head out in the first real snowstorm of the year for a full day of waterfalls and snowy hikes.
O Kun De Kun Falls
Konteko Falls
Greenwood Falls
Bond Falls
Duppy Falls
On the way back from Appleton Logan and Jacob make some quick stops in Ontonagon County, including Onion and Sandstone Creek Falls.
Bond Falls
Onion Falls
Sandstone Creek Falls
displaying 1 ~ 3 of journal entries with bond falls