We had a few friends up north with us over the summer of 2008. Steele, who I had met through some college student organizations, was itching for a hiking adventure. After work Katie and I picked him up and we all headed down to L'Anse with a laundry list of places to check out. It was optimistic, especially with a new hiker. With the late sunsets I held onto some hope that we could knock out a bunch of the Baraga drops.
Our first stop involved a bit of housekeeping. I had been to Powerhouse Falls a few times already this year but I kept missing things. The first visit ended abruptly when I dropped my new camera in the water. On the second visit I missed out on some of the upper drops including Power Dam Falls. Today I was determined to finish this area.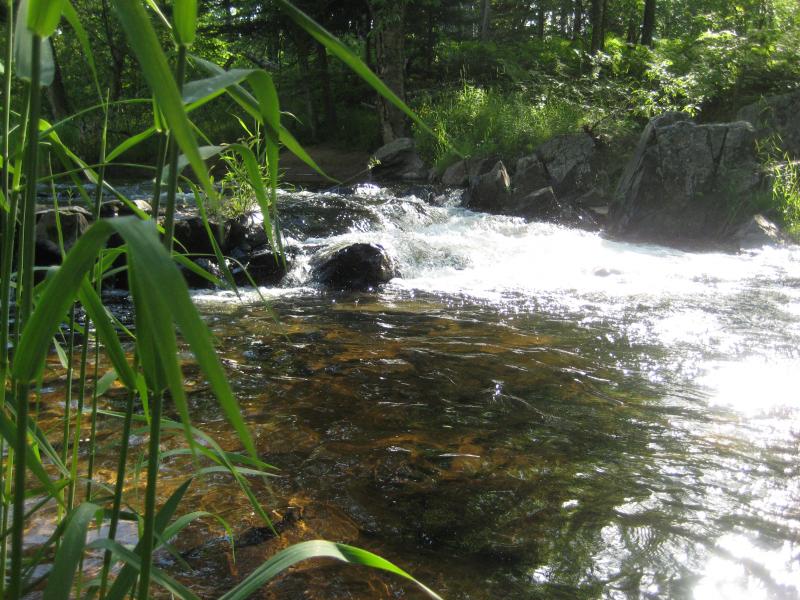 Knowing it wasn't the 'correct' way to visit I parked at the meadow at the end of Dam Road. A shallow reservoir once filled this meadow, although I'm not sure how big it was or where exactly the dam was located. Steele and I headed towards Falls River and followed it downstream, leaving the meadow behind and entering a wooded river parallel to the road that leads to Powerhouse Falls.
The walk was pleasant and it was nice to catch up with Steele, whom I hadn't seen much of over the last month. On the way we found Power Dam Falls, a small drop just upstream of Powerhouse Falls. Within sight of the old cement power house I led us back to the road. There was a lot of places to visit today and Katie was waiting for us - it didn't seem worth it to revisit this drop again.
Stopping quickly at Subway to pick up dinner we headed east out of L'Anse along Skanee Road. I had only been out this way a few times in the past and relied heavily on Katie's navigation. Our first stop was up by Aura on the tallest hill of Point Abbaye, Pike's Peak. During my research of waterfalls I was starting to learn more about other area features, especially the Huron Mountains. Hoping to get a good look of these mountains we drove up a dirt road to the top of Pike's Peak where there was some recent logging on the southeast face. We got out and headed along the logging roads, over brush and avoiding the deeper ruts. There was a nice view but it was mostly blocked by undergrowth and stumps. Also, the Huron Mountains were too far away, over miles of land and Huron Bay still, and I wasn't able to make out anything definitive. I retreated to the car, disappointed.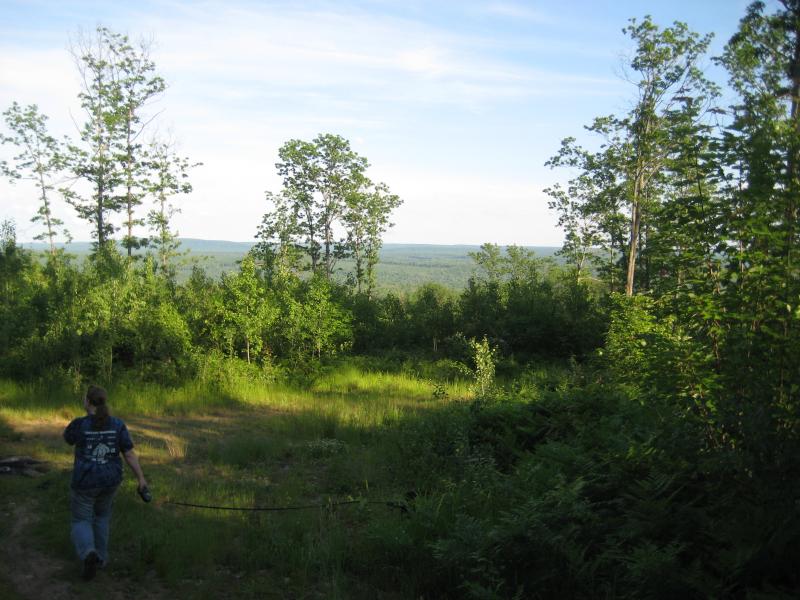 The next stop was a close one, right off of Skanee Road. Lower Silver Falls is a spot that Katie and I had been to in the summer of 2006, a beautiful set of drops that are easy to get to. We stopped here and ate the subs while I explored the area and took some pictures. I thought that I knew this area pretty well and only photographed the upper and lower chutes near the parking area. Later I learned about the upper falls, a few hundred yards upstream and around the calm bend, and would have to return to find them.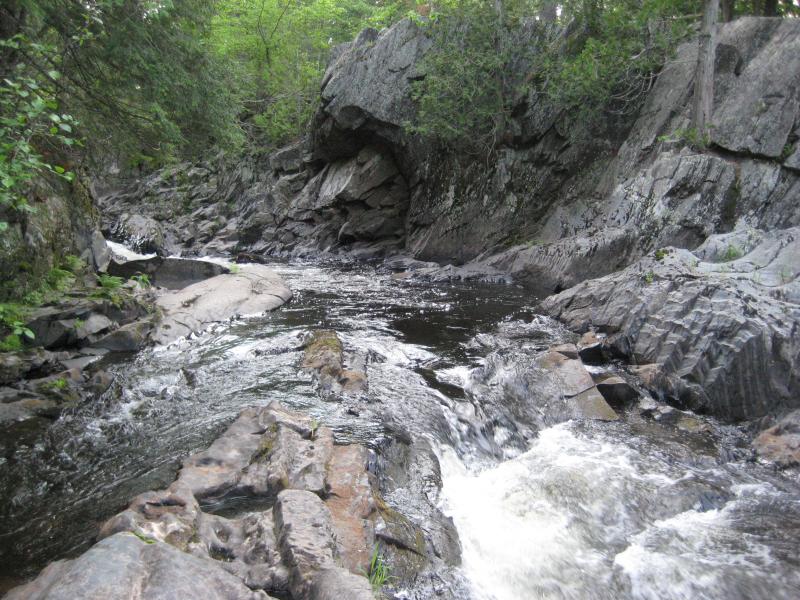 There were still quite a few spots on my list for today. We continued east on Skanee Road to Slate River. I didn't know much about this area, just that there were at least four named drops within a mile stretch. When Katie didn't see a trail she put her foot down, though. I tried to convince her that we could just follow the river upstream, find the waterfall, and that we'd be bound to find a trail leading further up to the other falls from here, but she wouldn't hear any of it. Between the thick undergrowth and the black flies she wanted a well groomed trail. So Slate River was out for today.
I had one more hope beyond here. Middle Silver Falls was just north of Dynamite Road. I hoped that we could take Dakota Farm Road, which roughly parallels Silver River, south to the falls. A gate stopped us. The road does connect Skanee Road with Dynamite Road, but it's gated on both ends. There would be no Middle Silver Falls today. I drove us back to Houghton in the fading light disappointed, with only the easiest two out of the seven waterfalls on my list visited.