displaying 1 ~ 3 of journal entries with hubbel
Not expecting to find much at the falls, Katie and Jacob head out to Hungarian Falls to stretch their legs and scout out the lower trestle.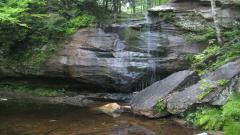 Tired of being cooped after several days of rain Katie, Jacob, and Logan head over to Tamarack for a quick stop at the familiar Hungarian Falls.
Looking for a break, Jacob takes Nick and James for a little trip to Hungarian Falls in a misty, but dry, time of year.
displaying 1 ~ 3 of journal entries with hubbel