We headed out of Houghton on a frigid Sunday morning without much of a plan. After the past few weekends we were on auto-pilot now: wake up an hour or so before dawn, scarf down food and coffee, and drive through the dark to arrive somewhere with the sunrise. Today I only had Cory and Faith with me, Katie decided to sleep in instead. Logan was much more excited than my two hiking partners, who they slept most of the way to Skanee.
While the nightmare of last weekend's adventure weighed heavily on our minds I was determed to remain optimistic about today. We would make it to both Wylie Dam and Upper Sturgeon Falls today. I drove us over to the Yellow Dog Plains, taking Ford Road down from Big Erick's, where Cory and I saw our first solid snowfall of the year. The air and ground filled quickly with white in the sudden flurry. When the snow stopped after twenty minues everything melted away on the warm ground as fast as it had showed up. Faith slept through the entire scene.
The Triple A was horrifically muddy today. My small car bounced and shuttered eastwards, throwing mud up to the windows and making me question the reliability of the usually pleasant road. When we finally made it to the parking area at Pinnacle Falls my car was coated and we were anxious to get out and stretch our legs, sore from the long, tough drive. I had been to this waterfall a few times now but wanted to bring Faith and Cory out here. Plus, the impressive drop was a good excuse for us to drive all the way out here close to Wylie Dam Falls.
Before we headed down the trail we noticed another car parked here. Between the lack of tracks and clean tires I could tell that someone had spent last night here. A bit on edge we started down the slick mud trail to the falls. Logan and I took the lead, helping Faith and Cory down over the slicker parts, my long legs serving as a great span for traction. They both had brought backpacks along filled with survival gear: flashlights, granola, water, flare guns, and more. I didn't learn as quickly as they did. The single first aid kit that Katie had pushed me to start bringing was tossed in my car's trunk. I took only the usual camera and paper map, both shoved into my pockets.
All of us followed the trail around to the falls and quickly found the owners of the parked car. They had camped here over the weekend, right at the base of the pinnacle. The spot would be fantastic, even though I'm sure that the infrequent visitors to the waterfall (like us) would get annoying.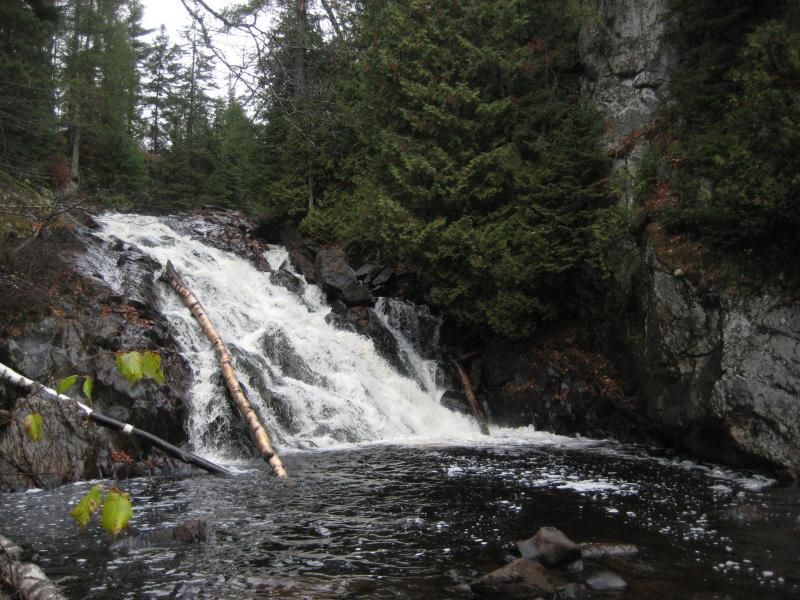 When we reached the falls we all paused for a bit. This was one of the more impressive waterfalls I had taken these two to, especially considering the large outcropping nearby and remote setting. Faith and I decided to attempt a crossing below the falls and circle back around the timber crib above. Cory wasn't in the mood for a trip across the water, though, and headed back to climb up the pinnacle. Logan reluctantly came with me, not enjoying the cold water on his paws. It was still bitterly cold out, not quite freezing, and we could already tell that there would be no sun to warm up the air today.
It was fun climbing around below and up the falls. When we finally made it back over the timber crib I was able to find the path back to the landmark post easily. I stopped and thought of Cory. Our route was much longer than his. He should have been here already, waiting for us. Figuring that he headed back to the car we climbed back up the steep muddy path. Cory wasn't there.
We started to get worried at this point, especially after Kyle's fall and our recent overnight misadventure. Turning back down the trail we slid and trotted back down, occasionally yelling his name. Right when we reached the bottom he popped up out from the bushes, seeming to materialize from the woods itself. He had actually fallen down the pinnacle, rolling and tumbling down the steep rocky hill, and was dazed and confused. His usually crazy hair had leaves and twigs tangled and he looked beat up. We checked him over, making sure there wasn't a concussion or anything, and then helped him back up the hill. Cory was fine, if a bit cross from his tough tumble.
Now it was time for Wylie Dam. I wasn't really sure where this waterfall was located. I drove back to the Triple A and tried the next two-track west, which led to a water guage on Yellow Dog and some rapids. The river was almost shallow enough to drive across here, with a road continuing up the far bank to the Bob and Paul Lakes and Mulligan beyond, though a sturdy gate and deep ruts showed that this road would be passable by foot only. Not finding any falls here we drove back up the road and turned west along a windy little trail before parking at a silver gate. If my guess was correct than Wylie Dam Falls would be located beyond this area.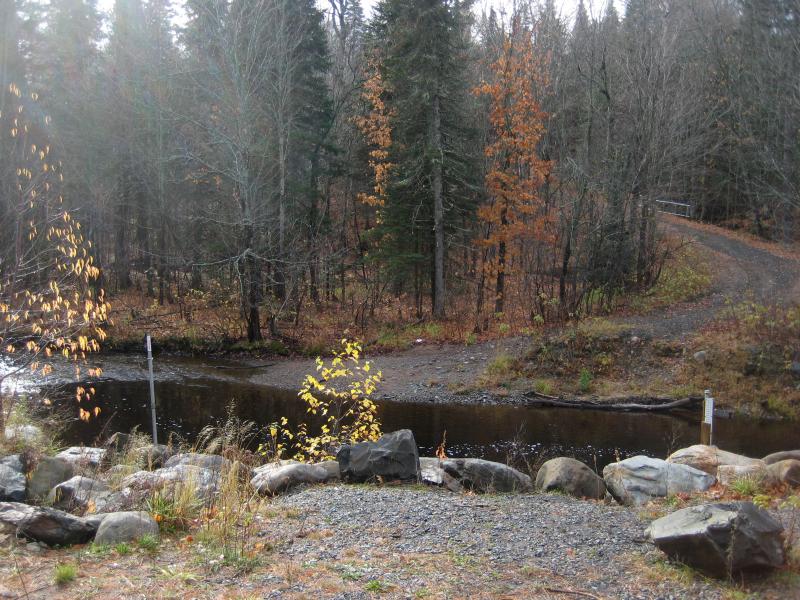 Cory was more interested in taking a nap than going back out in the cold air so Faith, Logan and I headed down the gated road. A short hike took us to a hunting cabin that we made a wide circle around and soon we were back on the river. There was no deep gorge here like at Pinnacle; the river flowed level with the plains. A nasty swamp stretched as far as we could see westward. This means that between Wylie Dam and Pinnacle the water drops almost two hundreed feet. I couldn't help but wonder if some of that drop might be over a few unnamed falls.
Following the river downstream a few dozen yards brought us to the the old dam. There wasn't much here. The waterfall is maybe a foot tall. sliding over some rocky rapids. The remains of an earthern dam stretched to either side of the rocks but it was only a few feet tall. I'm not sure if that height would even be enough to create a decent logging rush of water. We were at the right spot, with a second nearby hunting cabin having a sign for 'Wylie Dam' over its door, so I took the photos and we left. After far too many tries I had finally found the last waterfall on the Yellow Dog.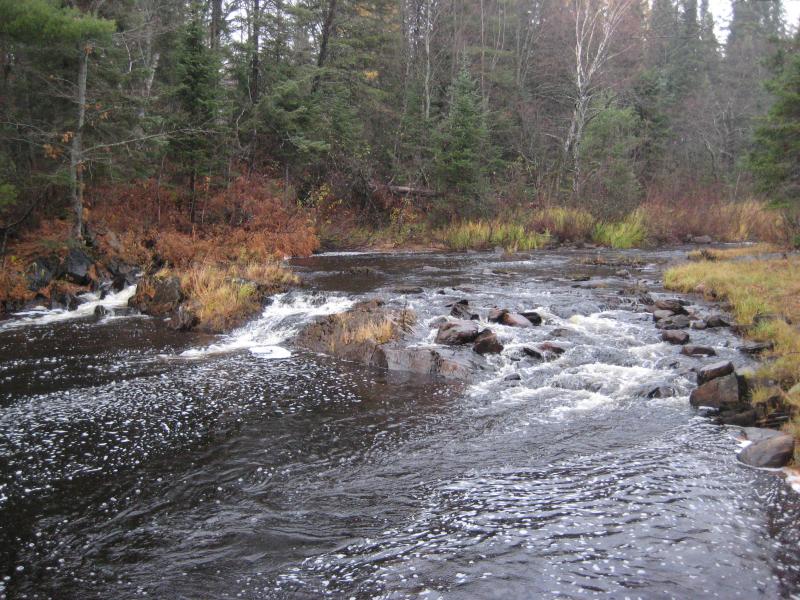 We had to wake up a snoring Cory when we got back to the car. It was already getting close to noon and our visits in Marquette County were done. After a quick lunch in L'Anse I tentatively suggested the last stop of the day: Upper Sturgeon Falls. The glares I received were almost as cold as the wind that had picked up over the afternoon but they grudgingly agreed to try it again, well-armed with their survival gear.
I parked us at the same spot, right on the Tama-Siding Road, and this time we took the railroad tracks. The wind was coming in strong but it was on our backs, making our hike an easy trot over the rain-slick ties. It was almost too easy to reach Sturgeon River.
The river was small, a deep sluggish chug emptying into Tama Creek under the tracks. After some hesitation we pushed off the open tracks into the tangled brush surrounding the river. Ignoring the relentlessly thick undergrowth it was a scenic hike with a few scattered views over the swamps below. I had a much better grasp of the area this time around and was tempted to led us over to Spruce Lake on the far side of the river, just to check out something different, but we were running on low on time. And that's when Faith checked her watch and decided that it was time to turn around. She wasn't taking any chances today. Faith wanted to be back at the car before dark.
We were probably within a few hundred yards of Upper Sturgeon Falls. However, she refused to back down. Disappointed we turned around, cutting due west over to the tracks to save some time. When we made it back to the Tama-Siding Line the blustery wind had picked up, throwing sheets of rain and sleet right in our face. We trudged at an angle, heads down, bundling up against the cold and wet. It was a miserable hike back, and the knowledge that I had failed here yet again weighed heavily on me.